Product News
Reference: APN052
Date: November 5, 2018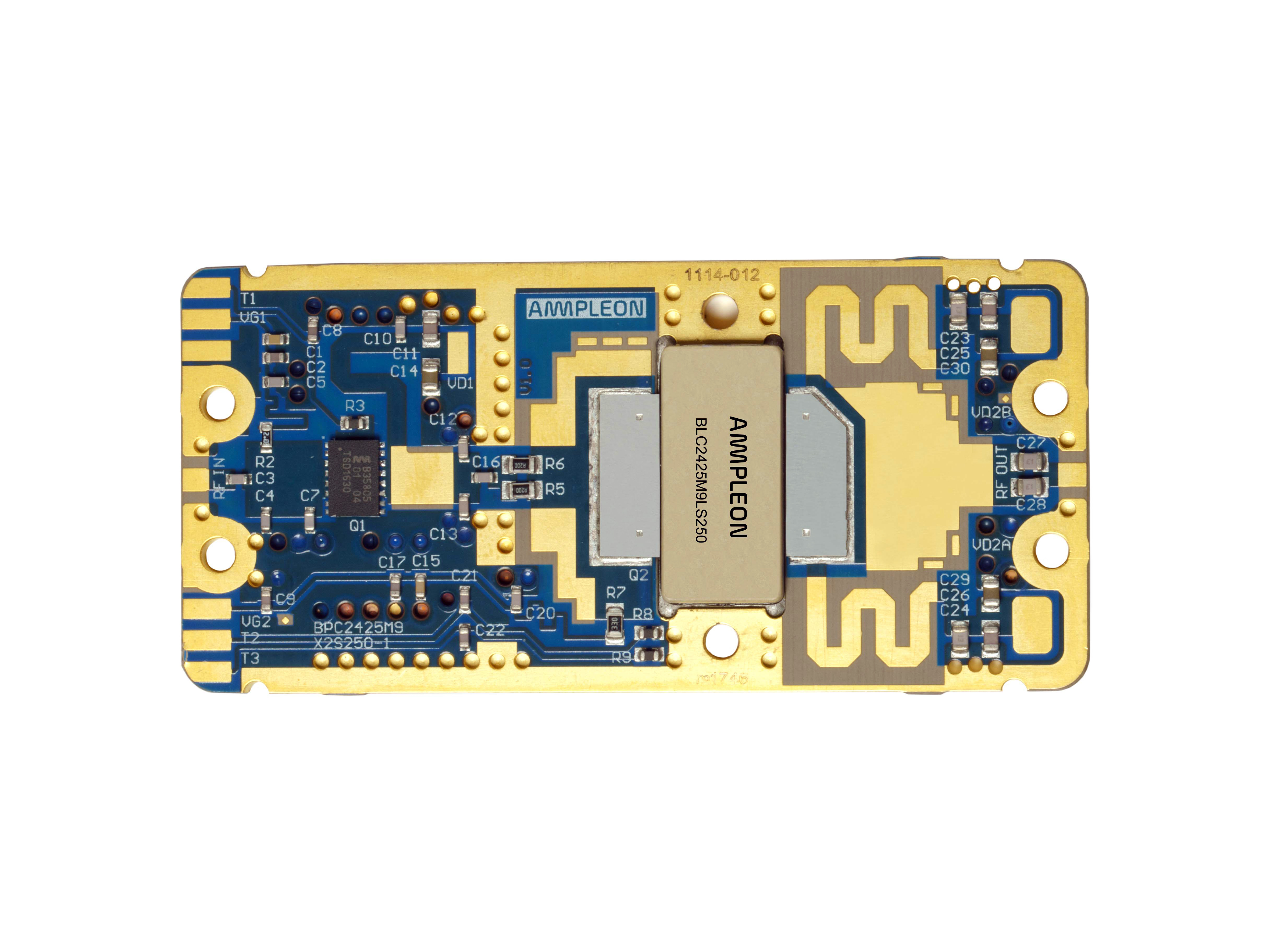 Nijmegen, The Netherlands – 5 November 2018 – Ampleon today announced the compact dual-stage 250 Watt LDMOS RF power module BPC2425M9X2S250-1. Designed for high power continuous wave (CW) industrial, scientific and medical (ISM) applications operating in the 2,400 MHz to 2,500 MHz frequency band, the high efficiency module measures 72 mm x 34 mm and incorporates a temperature sensor to facilitate the monitoring and control of its temperature, state-of-art multilayer board with integrated heat spreader and best in class LDMOS technology. The module also has a 50 Ohm matched input and output, which simplifies the design-in process by removing the need for any tuning or additional matching components.
The BPC2425M9X2S250-1 RF power module is a compact and lightweight solution whose implementation eases the overall system design and manufacturing process by lowering component count and minimizing space, an essential aspect of any space-constrained product design.
When operating from a 32 VDC supply, the module has a peak output of 290 Watts (CW), 300 Watt (pulsed) and an efficiency of 59% (CW), 61% (pulsed) and a gain of 31 dB.
Typical RF energy applications for the BPC2425M9X2S250-1 include use in industrial heating and drying systems, plasma lighting fixtures, and solid state cooking ovens.
Each module is full DC, RF tested and x-Rayed during production, ensuring customers can achieve high quality, reliability, and consistency in their end products.
+++Ends
For further information and reader enquiries:
Natascha Jellema, Project Manager Corporate Communications
Ampleon Netherlands B.V.,
Halfgeleiderweg 8, 6534 AV Nijmegen, The Netherlands
Tel: +31 6 208 14 771,
Email: natascha.jellema@ampleon.com,
For further information, text and graphics by email or to discuss feature article opportunities:
Robert Huntley, Director
Publitek Limited,
Tel: +44 1225 470000,
Email: robert.huntley@publitek.com,
About Ampleon:
Created in 2015, Ampleon is shaped by 50 years of RF power leadership and is set to exploit the full potential of data and energy transfer in RF. Ampleon has more than 1,350 employees worldwide, dedicated to creating optimal value for customers. Its innovative, yet consistent portfolio offers products and solutions for a wide range of applications, such as mobile broadband infrastructure, radio & TV broadcasting, CO2 lasers & plasma, MRI, particle accelerators, radar & air-traffic control, non-cellular communications, RF cooking & defrosting, RF heating and plasma lighting. For details on the leading global partner in RF Power, visit www.ampleon.com