Company News
Reference: APN027
Date: April 12 ,2017
Booth 243, Shanghai Convention and Exhibition Centre, April 25 – 27, 2017
Nijmegen, The Netherlands, April 12, 2017 –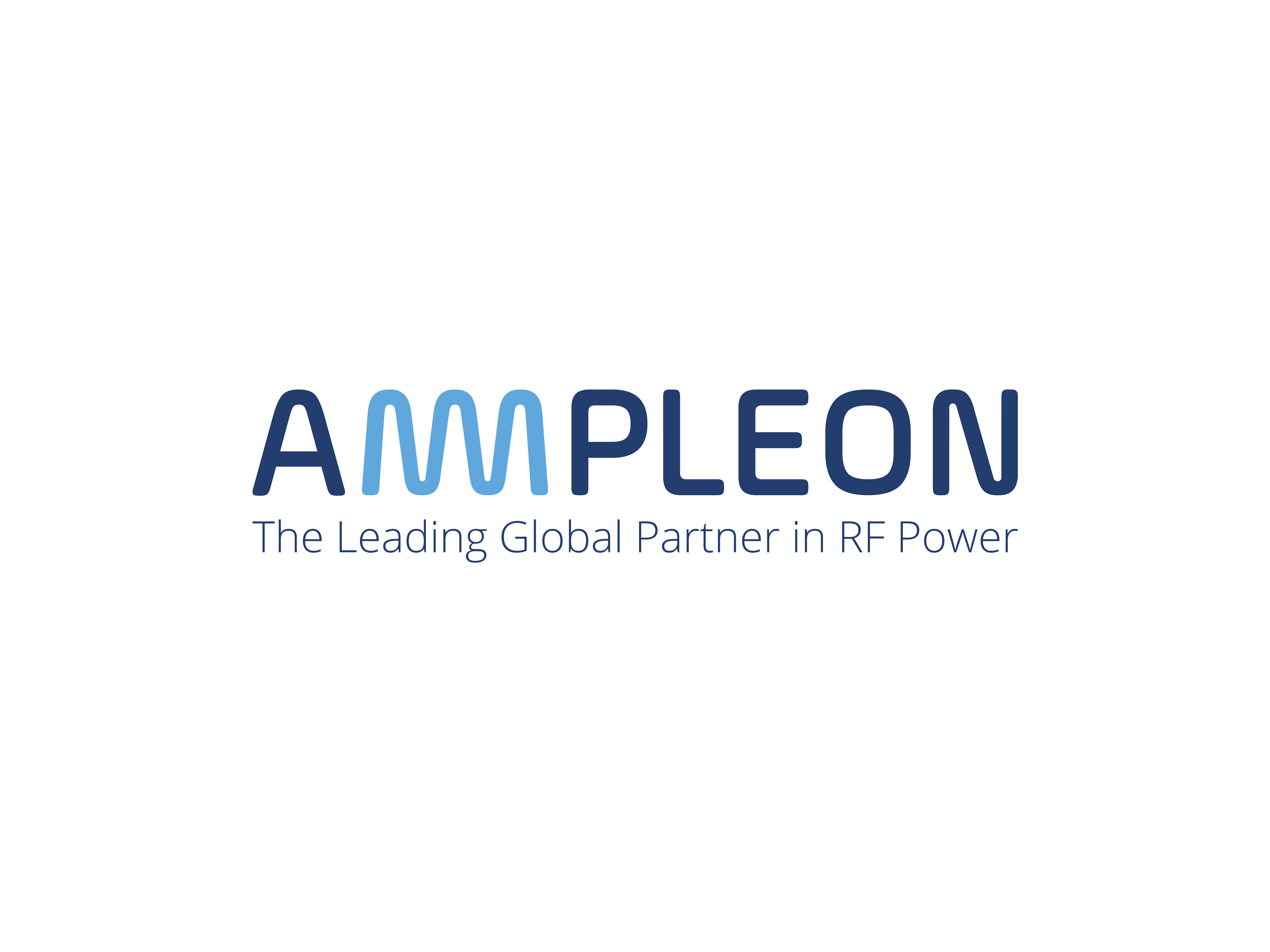 Ampleon today announced its participation at the forthcoming Electronic Design Innovation Conference (EDI CON) held in Shanghai, China April 25 – 27, 2017.
At the booth, 243, Ampleon will showcase its latest RF amplifier devices and modules suitable for use in Mobile Broadband, broadcast, industrial, radar and avionics, and RF energy applications. Product demonstrations include a 400 Watt S-band pallet, a 900 Watt UHF broadcast design and a 2,000 Watt 127 MHz ISM band example. Also on show will be a 433 MHz, 200 W pallet with integrated sensing for use in RF energy applications.
Ampleon's LDMOS product portfolio includes broadband devices, transistors for Doherty amplifiers, extremely rugged high power devices designed for industrustrial, scientific and medical applications, and fransistors for civilian radars. The GaN on SiC line-up includes high power broadband devices and drivers.
In addition to a comprehensive line-up of their latest products and solutions, Ampleon staff are also actively participating in the conference programme.
On Tuesday, April 25 at 1.50pm, Pinglu Chen, Managing Director, Ampleon Semiconductors (Hefei) Co. Ltd, China, Ampleon will take part in the RF Energy Alliance panel workshop titled "Solid-State RF Energy in 2017: The volume breakthrough is finally there, is it not?"
On Wednesday, April 26 at 1.45pm, Francis Auvray, Senior RF Engineer at Ampleon will chair a workshop on 20 W Fully Integrated 3.5 GHz GaN Doherty MMICs for 5G Applications.
Also on Wednesday, April 26, Nick Pulsford, Senior Vice President R&D/Technology at Ampleon will participate in the panel regarding trends in mobile infrastructure at 1.45pm.
Staff from local distribution partners DXY Technology, Flyring Electronics and Transemic Technology will be co-exhibiting alongside Ampleon on the booth.
Conference registration is now open at http://www.ediconchina.com/registration.asp
+++Ends
Note to editors: To schedule a briefing with Ampleon staff during EDI CON please contact Robert Huntley on +44 1225 470000 / robert.huntley@publitek.com
For further information and reader enquiries:
Susanne Schorn,
Corporate Communications
Ampleon Netherlands B.V., Halfgeleiderweg 8, 6534 AV Nijmegen, The Netherlands
Tel: +31 6 83 63 10 59,
Email: Susanne.Schorn@ampleon.com,
For further information, text and graphics by email or to discuss feature article opportunities:
Robert Huntley, Director
Publitek Limited,
Tel: +44 1225 470000,
Email: robert.huntley@publitek.com,
About Ampleon:
Created in 2015, Ampleon is shaped by 50 years of RF power leadership and is set to exploit the full potential of data and energy transfer in RF. Ampleon has more than 1,250 employees worldwide, dedicated to creating optimal value for customers. Its innovative, yet consistent portfolio offers products and solutions for a wide range of applications, such as cellular base stations, radio/TV/broadcasting, radar, air traffic control, cooking, lighting, industrial lasers and medical. For details on the leading global partner in RF Power, visit www.ampleon.com